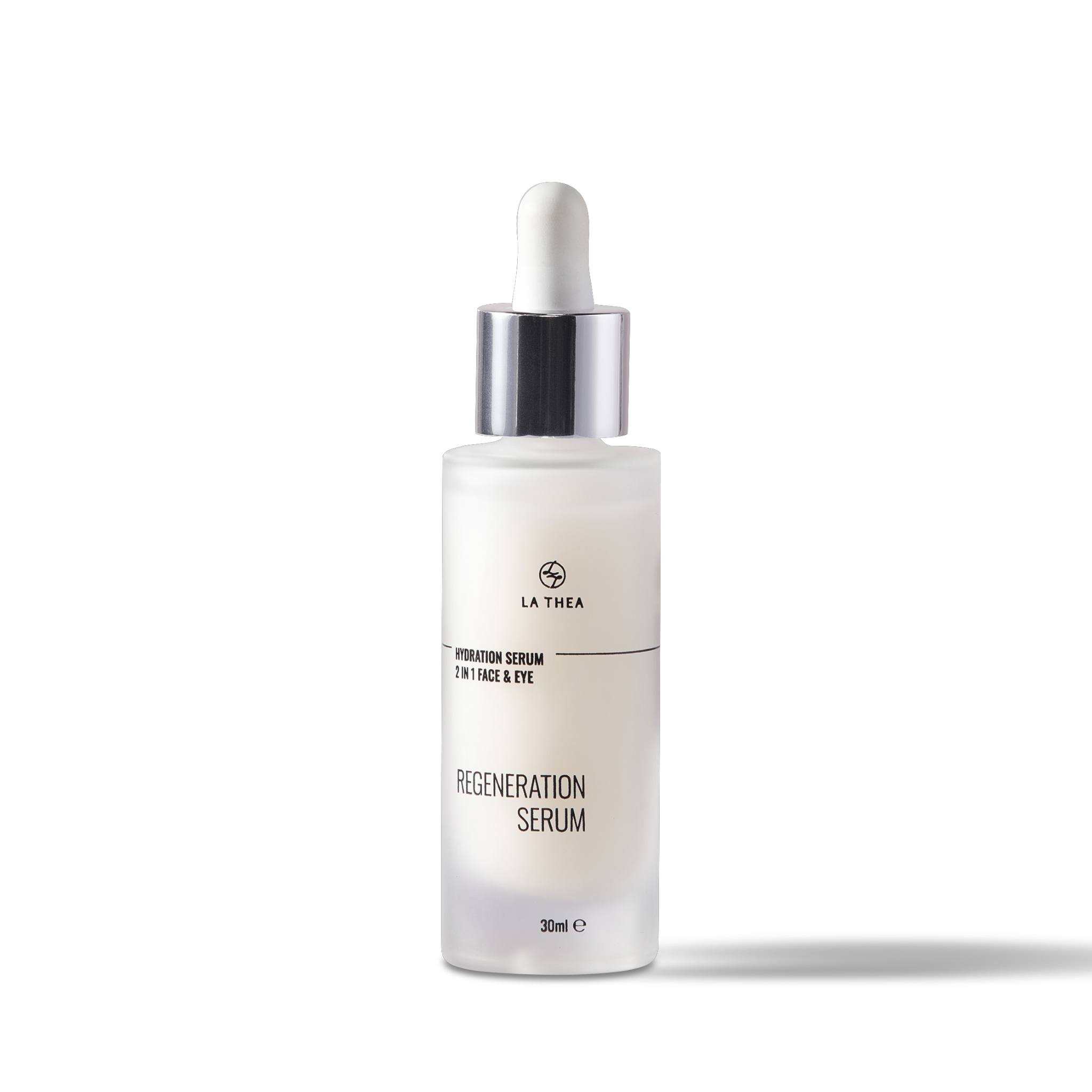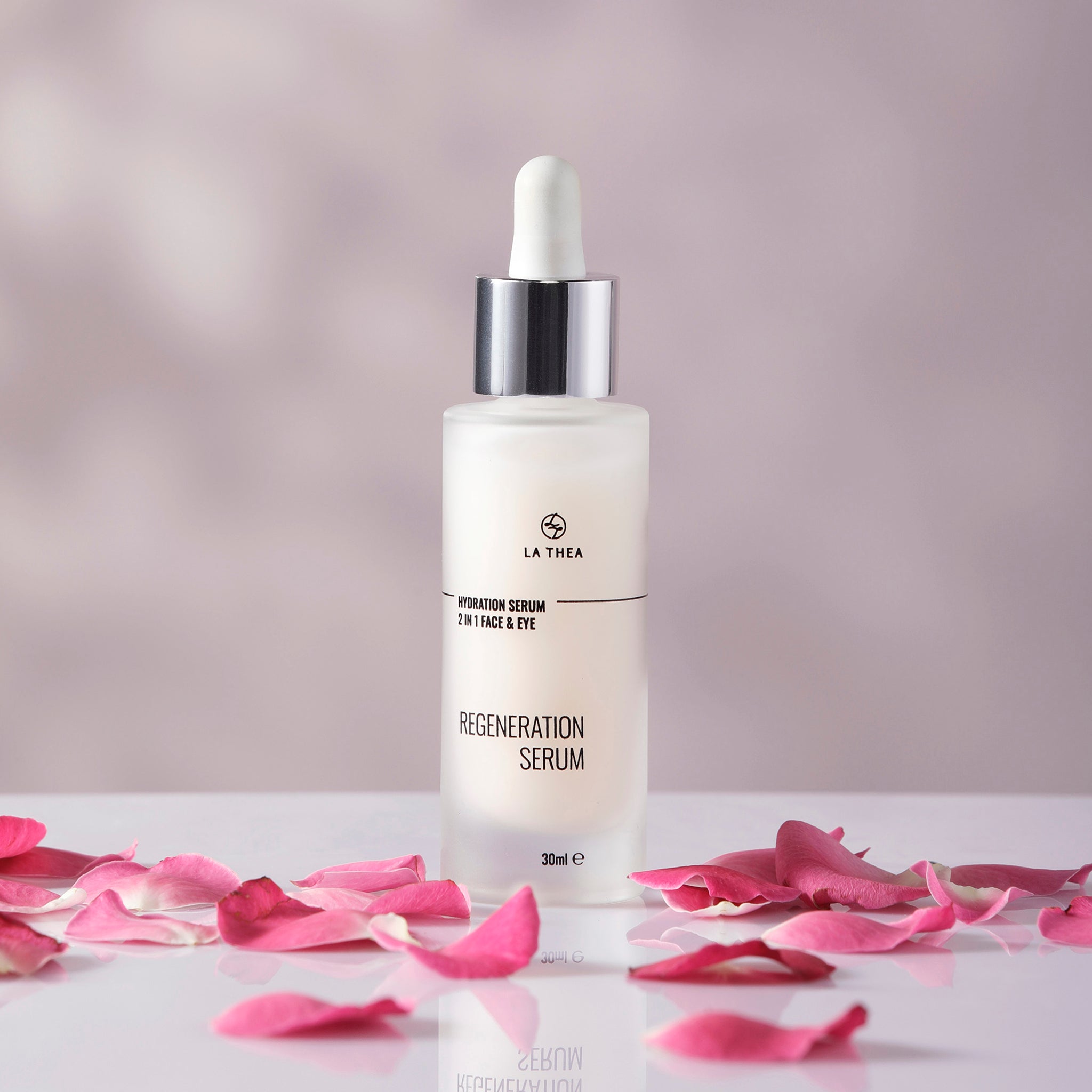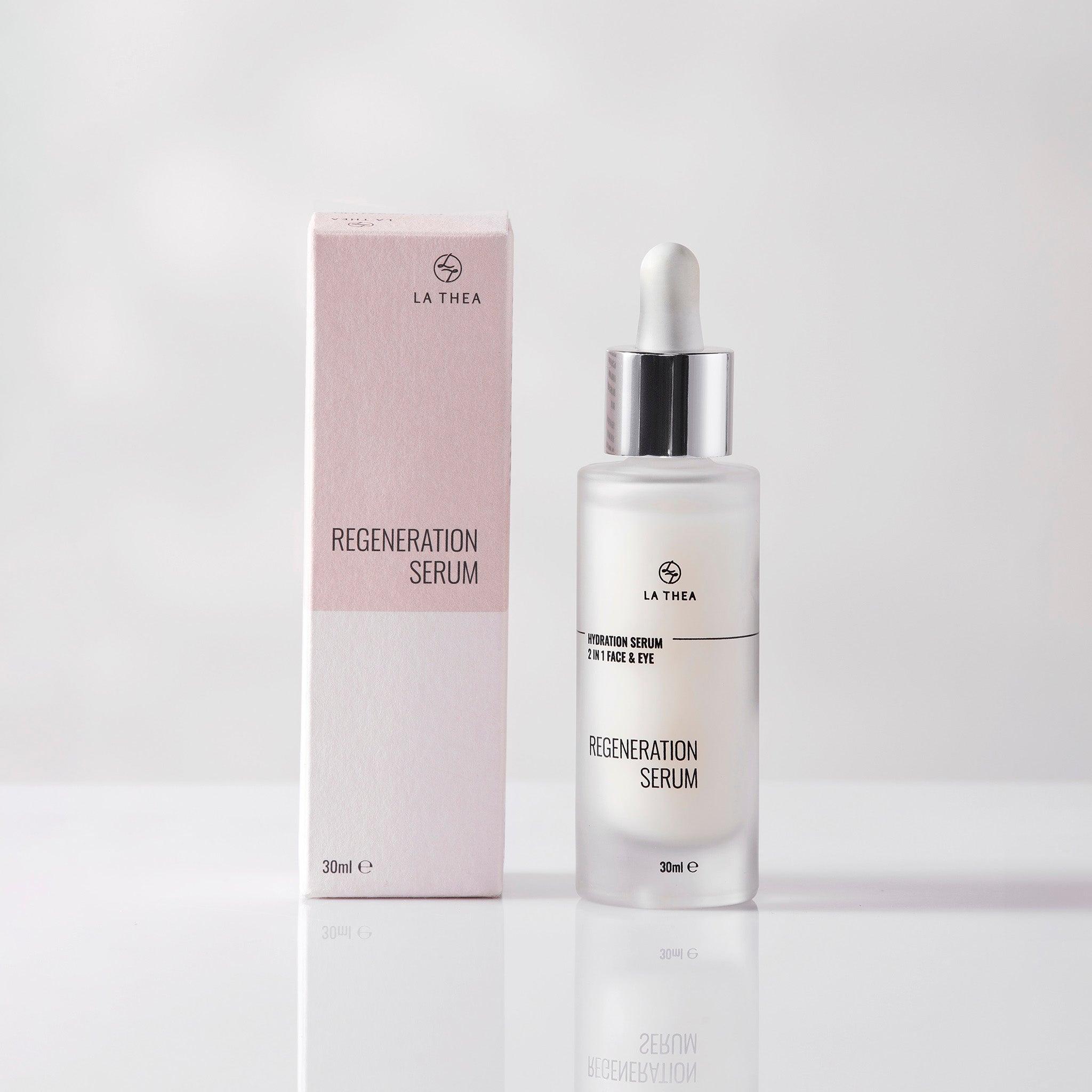 Regeneration and Hydration Serum - 2 in 1 Face & Eye
Immediate and lasting hydration
Brigher and radiant complexion
Soothing for sensitive skin
Improved skin texture
Reduced fine lines
Shine reduction
La Thea Regeneration Serum is an ultra-hydrating serum for the face and eye area with extra light consistency. It plumps the skin with moisture for a supple, smooth and radiant look. It contains innovative formulation of Amino-acids, Hyaluronic acid and Rose Damascena oil. The deeply penetrating Hyaluronic acid complex reduces visibly signs of aging, improves skin tone and elasticity. The light silicone-like feel makes it suitable for make-up base. Enriched with the lovely scent of Bulgarian rose oil.
Its unique formulation has been thoughtfully curated, with each ingredient carefully selected to ensure suitability for both the delicate eye area and the entire face.
La Thea Regeneration Serum has a formulation that provide a smooth and flawless finish without leaving the skin shiny. Also suitable for sensitive skin.
How to use:
Dispense 2-3 drops of the serum on the skin. With gentle tapping motions, apply the serum onto the face, including the eye area. Gently pat the serum into the skin until it is fully absorbed.
Active ingredients: Amino-acid complex, Hyaluronic complex, Squalene, Rosa Damascena flower oil.
Ingredients: Aqua, Squalene, Glycerine, Pentalene Glycol, Lysolecithin, Sclerotium Gym, Xanthan Gum, Pullulan, Betaine, Sodium PCA, Sodium Lactate, PCA, Serine, Alanine, Glycine, Glutamic Acid, Lysine HCL, Threonine, Arginine, Proline, Propanediol, Hydrolysed Glycosaminoglycans, Sodium Hyaluronate,  Hydrolysed Hyaluronic Acid, Hyaluronic Acid, Sodium Hyaluronate
Immediate and lasting hydration
Amino acid complex: As a combination of amino-acids, it brings strong hydration and mimics the skin own natural moisturizing factor, which decreases as we age. It improves skin barrier function, increases the water content and reduces water loss and wrinkles.
Hyaluronic complex: 5-component hyaluronic complex consisting of low weight hyaluronic acid for maximum penetration. The complex ingredients attract water and deliver it to the deeper layers of the skin for a long lasting hydration. It pumps the skin reducing wrinkles and smoothing fine lines. Some of it adsorbs to the skin surface and fills the lines for immediate
wrinkle-reducing effect. The skin elasticity and radiance are restored.
Rosa Damascena Oil: Anti-age, antioxidant with calming effect
for sensitive skin, the rose oil reduces redness and irritation, stimulates the skin self-regeneration, relaxes and gives a wonderful scent.